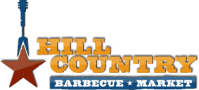 [Note to reader: I wrote this a while ago, but due to the comatose state-- see below -- I forgot to post!]
I write to you from a BBQ-induced comatose state.  And my hair smells like smoke — the good kind. My best friend and I have bonded over many things over the years, one of which is our shared love of smoked meats.  Naturally, we ventured to Hill Country in Chinatown/Gallery Place, whose name refers to the "Texas Hill Country" region in Central Texas.  For those of you unfamiliar with Hill Country, it's a New York based restaurant that opened its doors in DC a few months ago.  It professes to make "Austin-style" BBQ and other fixins'.
My first thought was — "Really? I mean, really?" It reminded me of that Old El Paso salsa commercial . . . You know, the one where the cowboys sitting by the campfire are given a generic brand of salsa, which happens to have been made in NYC.  One of the cowboys turns to the others and, with the grimness of an executioner sporting a Texas drawl, says "New York City???? Get a rope." Presumably the rope is for hanging the person who thought a salsa made in NYC could even compete .  . .  Alright, you get it.
I have to say I was pleasantly surprised, as was my friend.  Hill Country is a solid BBQ joint.