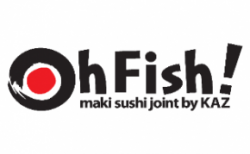 One of my favorite sushi places in town, hands down, is
Kaz Sushi Bistro
(I St. NW between 19th & 20th).  The decor is understated, the food is top notch.  Above all else, Chef Kaz Okochi really does focus on the quality and variety of fish he offers and the techniques used to prepare said fish.  And it's safe to say that he's been doing this quite successfully for many years now.
While he's been involved in recent joint ventures, like
El Centro D.F.
and
Masa 14
, with
Richard Sandoval
(of Zengo, La Sandia, etc.), Kaz has also been busy with a new venture of his very own –
Oh Fish!
  The idea behind Oh Fish!, located at the corner of 19th & L St. NW, is to let the consumer make their own sushi.  So, you pick (1) the size of your roll — large or "skinny";  (2) your fish; (3) a few veggies; (4) opt for one or more additional toppings like fish roe or sesame seeds; and (5) the sauce (soy, wasabi soy, spicy mayo, etc.).
Boom! Your very own, made-to-order sushi roll.