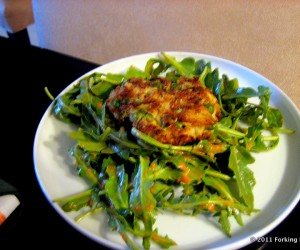 I recently downloaded Rocco DiSpirito's Now Eat This!  In this cookbook, Rocco takes "150 of America's favorite comfort foods" and remakes them into dishes that clock in at under 350 calories a piece.  Following each recipe, Rocco provides the calorie and fat content of both the traditional and revamped versions of each dish.  It's really quite impressive just how many calories and grams of fat he shaves off.  Could it be too good to be true?
I decided to find out.  Also, I was curious to see whether the dishes would actually come out looking like the pictures in the cookbook.
Overall, I have mixed feelings about the five recipes I tested.  On the one hand, I was able to eat a wedge salad with bacon and blue cheese dressing, a healthy portion of jambalaya and a brownie for about 600 calories and 21 g fat.  According to Rocco's numbers, the traditional version of these dishes would have clocked in at close to 3000 calories and 185 g fat.  That can't be right.  Could Rocco be inflating some numbers here?  I don't know and I guess it doesn't matter.  I felt full and somewhat satisfied after this meal.
On the other hand, everything I made, except for the jambalaya, was not quite right in terms of texture and/or flavor.