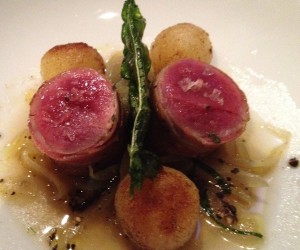 Three hours and seven courses later, I can only say that Elisir's seven course tasting menu ($75) was average when compared to other tasting menus I've experienced.  In my book, it's a bad sign when I've finished an extravagant meal and long for a nice, juicy burger to quell the lingering hunger.  My dining companions and I all felt the same way as we tried to make each course last longer by eating it in four bites instead of what could easily be done in one or two. While Chef Enzo Fargione and his team produce well-executed, balanced, and flavorful dishes that are also interesting to look at, I found that no one dish was memorable.
Ironically, the whimsical and colorful nature of Fargione's dishes was in sharp contrast to the army of well-trained, suited and serious staff that catered to our every need — so much so that they ended up hovering over us.  It was a little disconcerting and contributed to the overly stuffy ambience.  This was no less evident when our service captain needed to correct the positioning of plates that had been set down incorrectly throughout our meal.  I applaud him for his conscientiousness, but my friends and I couldn't help but be amused by the whole process.  At one point, we just broke down and tried to engage our service captain in some well-intentioned teasing.  His stoney demeanor quickly softened and he turned out to be quite pleasant.  That change quickly transformed the entire tone of the meal into something more enjoyable.
I have to take a brief moment here to vent.  I've been disappointed with the continued popularity of foam and "dirt" (i.e. food made to look like dirt) on fine dining menus.  At best, these items add marginal value to dishes.  Why would I or anyone else want to eat anything that resembles dirt? Is it just me? Does anyone else feel the same way? Chef Fargione used these items more than once during our seven courses.  One type of "dirt" appeared in the deconstructed beet salad.  It was a mixture of dried mushrooms, coffee, and almonds.  I understand the need to provide different textures, but I would have preferred a different approach.   Next, the halibut came with a sauce made with oil mixed with the burnt parts of roasted vegetables.  I applaud Fargione for creativity, but I didn't particularly like the taste of it. I was barely able to tolerate the foam in the tuna tartar.
There were several relative high notes to the meal, however.  I really liked the olive oil/chocolate popsicle.  It was an unexpected flavor combination that worked quite well.  The goat cheese gelato in the beet salad was a nice, creative twist. It tasted great on its own as well as when paired with fresh beets.  The ravioli were delicate and pillow-like.
I found the televisions in the front dining room, broadcasting images from the kitchen's plating station to be a little odd. However, I was thankful for them when my friends and I waited patiently and hungrily for our next course to be served.
All in all, I doubt I will find myself going back to Elisir.  It was an average experience and not really worth the price in terms of food or ambience.
Elisir 
  427 11th St. NW
  Washington, DC 20004
Tel: (202) 546-0088
Hours:
Bistro Lunch       Mon-Fri: 11:30am-2:30pm
Dinner             Mon-Thurs: 5:30-10pm
                   Fri-Sat: 5:30-11pm
Bar Happy Hour     Mon-Fri: 4:30-6:30pm