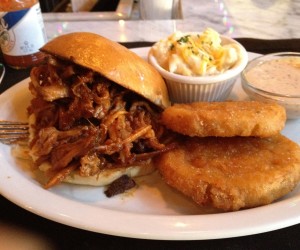 Below is a recap of my recent experiences forking food around the city.  As you'll see, I had some good bites and some not so good bites.
BBQ Pork Sandwich at Acre 121
I finally made it to Acre 121, formerly known as Commonwealth, in Columbia Heights.  On the weekends, the restaurant serves lunch and brunch.  I tried their BBQ pork sandwich, which comes with a choice of two sides.  I went with the macaroni and cheese and fried green tomatoes.  I also made myself a bloody mary at Acre 121′s DIY bloody mary bar.  Why don't more places do this??
Overall, the pork was tender and had good flavor, but the sweet BBQ sauce completely overpowered it.  I think if they laid off the sauce a bit, the sandwich would be much better.  The mac and cheese was tasty, but it was nothing special. The fried green tomatoes were a little lackluster.  The breading was too thick and under-seasoned.
Acre 121 also features live performances, although I haven't been to one yet.  Has anyone checked one out? Care to comment?
Acre 121
  1400 Irving Street, NW
  Washington D.C. 20010
PH: (202) 328-0121
EMAIL: info@acre121.com
HOURS: Mon-Thurs: 5:00pm – 1:00am
       Fri: 5pm–2am
       Sat: 11–2am
       Sun: 10am-11pm
Pho 14
Another Columbia Heights establishment, Pho 14 is good, quick, and cheap.  It's perfect for a chilly day.  The menu can be a bit intimidating for the uninitiated, especially when you take in the long list of proteins that can be added to your pho.  If you start getting the nervous sweats, don't fret.  The staff seemed pretty friendly and I saw them make suggestions to many people with "deer in the headlight" looks on their faces.  All pho come with the traditional condiments, served on the side — bean sprouts, lime wedges, basil leaves, and hot peppers.  I went with the beef pho and added a healthy dose of bean sprouts, freshly squeezed lime juice, and basil leaves.  I finished it off with a generous squeeze of Sriracha.
Pho 14
  1436 Park Road, NW
  Washington, DC 20010
PH: (202) 986-2326
HOURS: Sun-Wed: 11am-9:30pm
       Thurs-Sat: 11am-10pm
Pearl Dive Oyster Palace's Happy Hour
Pearl Dive's happy hour was disappointing.  Weekdays from 4 to 7pm, Pearl Dive offers happy hour specials at the bar.  Drink specials include a pre-selected sparkling, red, and white wine ($5), a vodka martini ($7), and half-price draft beers.  The food specials are mussels ($9), shrimp po' boy ($8), and 2-for-1 oysters.
I was drawn to the 2-for-1 oyster special since I'm always looking for cheap (but good oysters).  What I experienced was rather disappointing especially for a restaurant in the Black Restaurant Group, which also owns Black Salt, Black's, Black Jack, Addie's, etc.
The 2-for-1 special only applies to one type of oyster, pre-selected by the restaurant, and can only be purchased at that price when ordering a minimum of a half-dozen.  I found that a little annoying so I ordered a selection of their non-happy hour oysters and threw in 2 of the happy hour oyster — the Barcat.  Of course, they charged me full price for it.  The Barcats were by far the blandest oysters I've had.  After some research and discussion with an oyster connoisseur and friend, I understood both why they were bland and why they were being offered at a discount.  Those particular Barcats hail from the James River near the Chesapeake Bay.  While the James River used to produce good oysters a very long time ago, it has since fallen from grace.  It's known to produce some rather flavorless oysters and it also runs through some heavy industrial sites.  Maybe the Barcats' tagline should be "Barcats: Just a hint of industrial waste."  I'm glad I didn't order six of them.  Here's my unsolicited — and most likely unwelcome — advice to Pearl Dive.  If you're going to run an oyster happy hour, make sure the one "featured" oyster is a good one.  The other oysters I tried were okay but none of them really shined.  My experience left me longing for Clyde's or Old Ebbitt's oyster happy hour, which still reign supreme in my book.
On a positive note, the mussels are quite good and I've heard good things about the shrimp po' boy.  Another positive note is that you can always bypass Pearl Dive altogether and head up to Black Jack.
Pearl Dive Oyster Palace
  1612 14th St. NW
  Washington, DC 20009
PH: (202) 319-1612
LUNCH: Fri-Sat: 12-3pm
       Sun: 11am-3pm
DINNER: Mon-Sun 5-11pm
HAPPY HOUR: Mon-Fri: 4-7pm
Tortilla Cafe & Magnificent Mini Donuts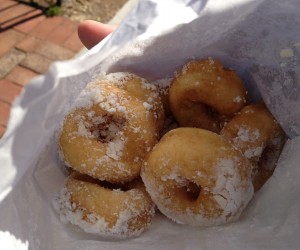 The highlight of my Sunday afternoon in Eastern Market was Migue's Magnificent Mini Donuts.  They are freshly fried, wee, and may be topped with powdered sugar or cinnamon sugar.  They are crack-a-licious.
Prior to that, I had an equally "healthy" lunch at Tortilla Cafe.  Tortilla Cafe is known for its Mexican and Salvadoran cuisine.  I was excited to learn that they serve a Salvadoran classic — the pupusa.  Their pupusas were in fact featured on  Guy Fieri's Food Network show, "Diners, Drive-ins, and Dives."  Pupusas are made by wrapping cornmeal-based dough around a cheese or pork and cheese filling.  They are flattened into a disk, pan-fried and served with a spicy slaw.  I haven't had a pupusa since I lived in Houston (over 10 yrs ago) where I could find them in any one of the many Pupuserias around town.  I forgot how much I missed them!  Tortilla Cafe's version was pretty good.  I was disappointed that they didn't offer "pupusa revuelta," my favorite type!  It's filled with refried beans, cheese, and chicharron (pork rind) . . . On second thought,  maybe it's good they don't serve those here.  I no longer have the metabolism of a teenager.  I also tried Tortilla Cafe's fried yucca and Salvadoran chicken sandwich, both of which were solid.
Magnificent Mini Donuts (stall in Eastern Market)
  225 7th St SE
  Washington, DC 20003
Weekends only
Tortilla Cafe
  210 7th St SE
  Washington, DC 20003
PH: (202) 547-5700
EMAIL: tortillacafe.dc@hotmail.com
HOURS: Mon-Fri 9am-7pm
       Sat-Sun 8am-7pm