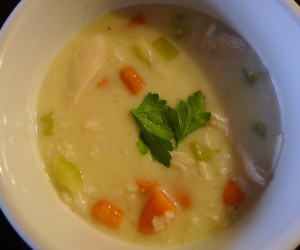 This recipe was originally published as part of my food column on Prince of Petworth here.
It's that time of year in DC. Fall is creeping up on us, making it difficult (for us ladies) to completely put away summer clothes and fully transition into our Fall/Winter wear. It's also the time of year that my mind and stomach turn to thoughts of soups and stews. One of my favorites is chicken soup. I mean who doesn't love chicken soup? It's like a big hug or a cozy blanket.
Growing up Greek, I only knew one kind of chicken soup – Avgolemono soup. The word "Avgolemono" is a combination of the Greek words for egg and lemon. As far as my brother and I are concerned, it's the best kind of chicken soup. Don't try to convince us otherwise.
Avgolemono soup starts with the same ingredients one normally associates with a traditional chicken soup — carrots, celery, onions, rice, and chicken. However, its key distinguishing feature is the finishing "sauce," which is made of . . . you guessed it, eggs and lemon juice.
Now, I know this may sound like a strange way to finish off a soup. And I know that it may be too early in our relationship for you to trust me. But you should. Make this soup once and you'll never want to go back to regular chicken soup. It's addictively good. It's lemony and hearty. It's a big hug and a cozy blanket on a comfy couch all wrapped up in one bowl. (You won't taste the eggs.)
My mom and grandmother make this soup the hard way. They start with a whole chicken, which they submerge in cold water and simmer with carrots, celery, and onions. Two hours later they end up with poached chicken and homemade stock. That's just the first step!
I don't have the time or patience to do that — to my mother's great disappointment. So, I've tweaked the recipe in order to streamline the process. Those who know me know that I don't sacrifice flavor for anything. This is gonna be good and so easy!