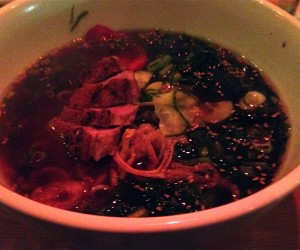 Do you ramen? You should. Ramen shops are popping up everywhere so get on the noodle train, people. The latest addition to the DC ramen scene is Taan Noodles, officially opening this Friday in one of my favorite neighborhoods (AdMo).
Taan Noodles is the creation of Executive Chef Jonathan Bisagni, whose resume includes stints at Kushi, Morimoto Waikiki, Sticky Rice, and Toki Underground.
The menu is simple. A small selection of appetizers/small plates and four types of ramen. There's a vegetarian ramen, a duck ramen, a pork belly ramen with three types of broth, and what I like to call the meat-lover's option — chicken confit, duck confit, and pork belly.
In addition to the food, Taan has an interesting selection of specialty cocktails, saki, and beer. I tried the Dr. Sun cocktail made with Japanese whiskey, simple syrup and bitters. I was pleasantly surprised at how the right proportion of each of these ingredients transformed the whiskey into an almost different spirit altogether.
I thought the corn fritters (sweet corn "kakiage"), served over a spicy yuzu and shiso sauce, were solid as was the duck ramen. While I would have liked a little bit more "pow" from the duck ramen, I'm not holding it against anyone since they haven't even officially opened yet. What I do know is that Taan is an exciting new addition to the neighborhood and I look forward to trying more dishes and seeing where this noodle takes me.
Taan Noodles
1817 Columbia Rd. NW
Tel: (202) 450-2416
Hours: Mon. Closed
       Tues/Wed. 5-10pm
       Thurs. 5-11pm
       Fri/Sat. 5-midnight
       Sun. 5-10pm