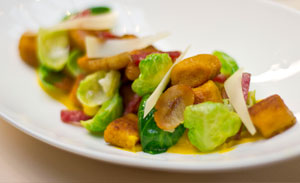 The Hamilton sounds too good to be true.  At 37,000 sq. ft and three floors, this ambitious new venture from Clyde's Restaurant Group that occupies the old Borders space at 14th and F St. NW, seems to do it all. It's open 24 hours, has a live music venue, and several bars and dining rooms.  Its menu seems to have been cobbled together using menus from diners and Korean, Japanese, Italian, and BBQ restaurants.  Its late night menu offers pancakes, burgers, and everything in between.  I'm tired just thinking of all its attributes.
The question is with such a huge menu and varied cuisines, can the kitchen really master any of them?  And moreover, does it have to? The answer to both questions is no.  While some dishes were better than others, nothing was outstanding and nothing was offensive.  So while the "kitchen sink" approach to cuisine seems inherently offensive to me, I can see how a little of everything, even if mediocre, can often times be good enough.  This is especially true when you're with a group of people who can't settle on one type of cuisine or when you "need" that late-night, post-drinking grub.  I also imagine the Hamilton will be a favorite among restaurant industry folks who need to unwind after working a long shift.
While I've only been to The Hamilton once, hardly enough times to really appreciate all that it offers, I sampled a variety of food and solicited opinions from my dining companions in hopes that I could get as much as I could from my first visit.
The grilled oysters were not in fact grilled.  While they resembled oysters Rockefeller, they were tasty.  I loved the macerated cherries that came with the cheese plate as well as the generous cheese portions — about 3 to 4 oz per cheese selection.  As an avid cheese lover, I'm used to overpaying for mere slivers of cheese so I very much appreciated the Hamilton's generosity here.  The charcuterie was high quality and the portions were in line with those of other restaurants.
The Korean lettuce wraps were disappointing nubs of dry beef pressed into sushi rice wrapped in oversized lettuce leaves.
The sushi exceeded my low expectations and can certainly "do" in a pinch.  The octopus was fresh and the Fire Dragon roll was solid.  The King Kong (lobster) roll, however, was highly disappointing. I considered it to be such a poor use of lobster that I felt I needed to apologize to the lobster for giving up its life for such an unworthy cause.
My friend loved her gnocchi (pictured) and another friend loved her crab cake, which contained generous portions of crab.  The service was fine although I felt that our waitress was still learning the menu herself. I can't blame her.
While I couldn't help but feel like I was generally overpaying for everything that night, the evening was easy, fun, and casual.  Sometimes that's just good enough.
The Hamilton
  600 14th Street, N.W.
  Washington, DC 20005
    (near Metro Center)
Tel: (202) 787-1000
Open 24 hours
View calendar and purchase tickets to live performances here.