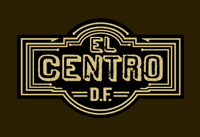 Stay thirsty, my friends.  Ok, I'm not the Dos Equis guy (love him!) and I'm not writing about beer.  This post is about tequila – the sippin' kind.  When my friend suggested going to a (free!) tequila tasting at El Centro tonight, I jumped at the opportunity.  Naturally.  The scoop is that El Centro is going to make Monday night tequila tastings a regular occurrence, except that they'll be charging for it in the future.
As they say, the first taste is free . . . At least that's what I hear.
Tonight's selections came from Oro Azul (Spanish translation: blue gold).  The flight of three (100% blue agave) tequilas was served with chips, salsa, and kick-ass guacamole.  I'm not a tequila connoisseur.  In fact, I find good tequila intimidating and I associate bad tequila with shots, stories that I do not care to share at this point in our (blogger-reader) relationship, and horribly painful hangovers.  So, I found this tasting informative and definitely something I'd do again if the price were right.  Maybe $10.  I'd pay more only if the tequilas were paired with food other than just chips, salsa, and guacamole.