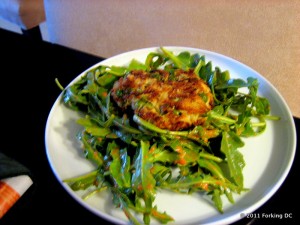 I recently downloaded Rocco DiSpirito's Now Eat This!  In this cookbook, Rocco takes "150 of America's favorite comfort foods" and remakes them into dishes that clock in at under 350 calories a piece.  Following each recipe, Rocco provides the calorie and fat content of both the traditional and revamped versions of each dish.  It's really quite impressive just how many calories and grams of fat he shaves off.  Could it be too good to be true?
I decided to find out.  Also, I was curious to see whether the dishes would actually come out looking like the pictures in the cookbook.
Overall, I have mixed feelings about the five recipes I tested.  On the one hand, I was able to eat a wedge salad with bacon and blue cheese dressing, a healthy portion of jambalaya and a brownie for about 600 calories and 21 g fat.  According to Rocco's numbers, the traditional version of these dishes would have clocked in at close to 3000 calories and 185 g fat.  That can't be right.  Could Rocco be inflating some numbers here?  I don't know and I guess it doesn't matter.  I felt full and somewhat satisfied after this meal.
On the other hand, everything I made, except for the jambalaya, was not quite right in terms of texture and/or flavor.
Now, I only tried a very small fraction of the recipes in the book.  My hunch is that the savory dishes will probably turn out the best in terms of resembling their original higher fat and calorie twins.  In the future, I'll probably skip the dessert section of this book because I hate cooking with so much artificial flavoring and sweeteners.  I'd rather have a tiny piece of dark chocolate than half a pan of black bean brownies (yes, you read that right).  That's just me.  Regardless of my complaints, I think Rocco's book is quite useful.  It provides people with low-calorie, low-fat alternatives to their favorite comfort foods that take 30 minutes or less to prepare.  Moreover, most of the ingredients are easy to find in local grocery stores.
Here's the scoop broken down by recipe.
Jambalaya
Success.  Of the five recipes I tested, this one came out the best in terms of taste and appearance.  I did cheat just a tiny bit though.  Rocco doesn't use any oil or butter in his recipe, opting for cooking spray only.  I added a little canola oil (a teaspoon) when I sautéed the onions, bell peppers, and garlic.  I tried using only cooking spray, but the mixture looked dry and didn't seem to be wilting down like it should.
I was surprised this dish turned out so well because Rocco really distills the recipe down to a few key ingredients, leaving many of the usual spices associated with jambalaya off the list.  The only spice he uses is paprika.  He also substitutes brown rice for the white rice normally used.
If you try the recipe, be vigilant during the hour or so of simmering that takes place.  The recipe contains little liquid compared to the amount of brown rice that you have to cook.  Therefore, it is important that you use very low heat and keep an eye on it or everything will stick to the bottom of the pot and burn.
Last but not least, this dish, like other similar dishes (e.g. arroz con pollo, etc.), is better after it has been reheated the next day.
Oh, I forgot to take a picture of this one.  Ironic, yes?
Wedge salad with blue cheese and bacon dressing
It came out okay.  It wasn't the best salad I've had, but it's a good substitute if you need a wedge salad fix at a fraction of the calories and fat.
Here's my problem: I don't know where he found low-fat blue cheese because neither Harris Teeter nor Whole Foods carries it.  If anyone knows where to find it, let me know!
Instead, I used regular blue cheese, but forced myself to use less of it so as to not increase the calorie count by too much.  As a result, the dressing was not as tangy as I would've liked it to have been.  Rocco's recipe also introduced me to Hormel bacon pieces.  Yeah, it's like real bacon that's been crumbled up and packaged in a jar.  Nice.
Crab cakes and red pepper dressing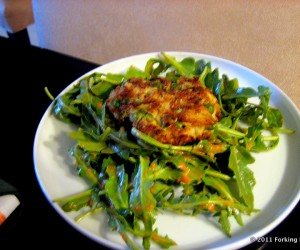 Can you really go wrong with crab? Rocco's version skips the eggs and frying, opting for a broiled version containing peas. They came out pretty good. I like peas though so I don't mind adding them to any dish, even crab cakes.
One crab cake (the serving size) is served over a bed of arugula dressed with the red pepper dressing, which doubles as a dipping sauce.
The problem with the crab cakes was that they fell apart easily because the mixture was too dry.  They lacked the mighty binding power of the egg.  Also, I like crab cake recipes that include mustard for that added zing.  Rocco's recipe skips this ingredient.  However, I did like the pairing of the red pepper dressing, arugula and crab cakes.  I'm a big fan of arugula lately.  I like its peppery flavor, especially when paired with citrus.
Brownies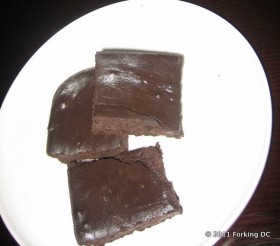 Hmmm.  I have one word for you: refrigerate.  These brownies need to be chilled at least a day before eating.  Otherwise, the texture of these brownies will freak you out and the prominence of the black bean flavor will leave you nauseated.  Yes, I said black beans.  The key to Rocco's re-engineered brownies is substituting black beans instead of flour.  It's clever.  And it's a good way to get an extra dose of fiber in your diet. To be fair, Rocco does mention that refrigeration improves the flavor.
After you've allowed the brownies to tighten up (congeal?) in the fridge for a day, you should prepare yourselves for the fact that the brownies will still not look like the picture in the cookbook.  They have a weird sheen to them and their texture, no matter how long you chill them, resembles a cross between fudge and flan.
One other gripe: Rocco cuts calories by substituting Splenda and Truvia for sugar.  Personally, there's only so much of these products I can use because I feel like they both have a weird aftertaste.
Strawberry graham cracker tarts
Fine.  My problem with this recipe is that the filling is a little runny.  It definitely doesn't look like the picture in the cookbook.  Again, refrigeration is key here.  If you try this recipe, you should refrigerate the filling for a few hours or overnight so that it thickens a little.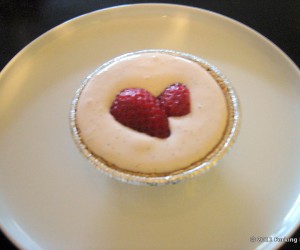 * * *
Bottom line: I think Rocco's book serves a good purpose.  When you're craving comfort foods, these recipes are good enough to satiate your cravings without piling on the guilt.  They don't take long to prepare and you can find most of the ingredients in your local grocery store.