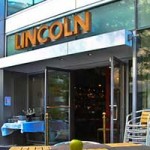 Open since April, Lincoln offers locally-sourced small plates as well as an interesting array of specialty cocktails and spirits, including my favorite — white whiskey.  Lincoln shares their corporate executive chef, Demetrio Zavala, with DC's Hudson Restaurant.  (Whatever Chef Zavala is doing differently here than at Hudson, he should definitely keep it up . . . Seriously.)  He's joined by Lincoln's executive chef, Karen Nicolas whose impressive culinary credentials include stints at two Charlie Palmer restaurants (Aureole and Dry Creek Kitchen) and New York's Gramercy Tavern.
I have now been to Lincoln several times and have enjoyed the somewhat whimsical decor — a penny-covered floor, a fun-house type, white leather couch with a super high back, and the hot pink colored women's bathroom.  Dudes, what does your bathroom look like?!
On to the food.  Looking over the menu, I can see the subtle influences of Zavala's Greek, Italian, French, Spanish, and Mexican roots.  After sampling an array of dishes, I was able to understand why some have criticized the portion sizes.  When I say "some have criticized," I really mean one person.  He's a good friend and I respect his opinions on food and drink.  (I can't vouch for his opinions on other topics, though….just kidding!)  Anyway, my friend complained that, after his first visit to Lincoln, he walked away hungry and in dire need of a burger.  I'll admit the portions at Lincoln are smaller than the portions that other local restaurants offer in terms of small plates in the same price range ($7-$15).  Now, I was not as offended by the portion size as my friend was, but, had I been hungrier when I dined at Lincoln, I may have shared my friend's frustration and desire for a second dinner.  So there.  You've been warned.